On the website/blog of The Sub Mission I saw an EdenFantasys post and decided to see what it's all about. I discovered that EdenFantasys is an online sex shop, but so much more. Not only do they sell sex toys, but also sexy lingerie, beauty and body products and books and dvd's.
I was looking into doing product reviews, but when I asked for advice, I was told that the sponsored posts program would be a better option for me. I was reluctant to do so, because I did not know what I could write about. So I engaged in correspondence with my contact at EdenFantasys and learned the following:
I can use any part of their website as inspiration for a post on my blog;
Once I have bought some products, I am allowed to review those and place the reviews on my blog.
---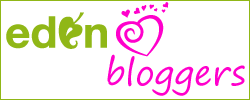 ---
This had me happy enough to start snooping around on their site. The requirements for the Sponsored Post Program were quite clearly spelled out:
150 or more words
2-3 (or more) links to edenfantasys.com (keywords and corresponding URLs are up to you, but please include at least one link to our homepage using any of the following anchor texts: EdenFantasys, adult shop, sex shop, adult toys, sex toys)
You may use your partner code within links (for affiliate earnings), but please make sure that 1 link to our homepage does not contain your partner code
All links must be "dofollow"
Content should be relevant to EdenFantasys and positive in nature
Content must be unique (no copied content from our website, or from other blogs)
Post must be permanent (it should be accessible via the provided URL for as long as your blog is active
But what other parts of their site could be used for inspiration? First, I found the SEXIS magazine. It is about… yes, sex and all things sexual. I have read some articles there and still have a lot to read. Next I moved on to the blog on EdenCafe where you can select to see articles only of a specific author or category. There is a lot on there to read and I am by far not done with it. A lot of articles on the SEXIS magazine and the EdenCafe blog have also sparked memories of my own. Some posts have already been written and posted and others I am still working on.
So what is in it for me? What do I get from writing a post and referring to EdenFantasys? By writing posts, I earn gift cards. I never know what the amount of the gift card will be, but it varies between $25 and $50 and it depends on different factors, which have been explained on the EdenFantasys website.
In the meantime I have earned some gift cards from EdenFantasys, but that was not the only way that I was 'making money'. I have also created an account on EdenFantasys and in my search for different kinds of sex toys or lingerie, I always checked there too. By logging in on the site, searching for items or creating a wish list and putting items on it, you earn points. The point system is explained in the dashboard section once you have become a member of the site. You can log in using your Facebook, Google, Yahoo or AOL account or you can create an Eden account. Once you have accumulated some points, you can convert it to a gift card and use the points when you purchase items from the site.
I have recently cashed in some of my gift cards to buy some items I wanted. My Husband wanted to buy a hogtie, but after a session in which I had the feeling that I was suffocating while being bound and lying on my stomach, he doubted his decision. He was quite surprised when I showed him the leather hog tie that I wanted to order. I explained that as long as he is in the same room as I am whenever he ties my arms and legs behind my back and I cannot move, everything will be okay. Then I won't panic, because I will know that he is in the room to help me if needed. And this hog tie of course can be used to tie my hands and feet in front of my body too, or tie my hands to my collar. I think there are quite some ways in which it can be used. Indeed, I have ordered this beautiful red leather hog tie.
Another item I wanted was a vibrator that I can use in the car. You see, I picture myself on my way home from work on a hot summer's day, wearing very little underwear, driving slowly in the traffic jam, legs spread and a vibrator either in my pussy or pressed against my clitoris. The thought of this – even only writing it now – makes me press my thighs together in anticipation. I went about the site of EdenFantasys, reading about the different products, reading reviews of the products and at last decided on two products – a bullet vibrator and a fairy. A mini fairy, that is!
And of course, in this post, I am not going to tell you more about these products, as I want to do a proper review of each of them, once they have been used. I hope that is sooner, rather than later!
To recap, for those of you who are interested in the EdenLovesBloggers program, please follow the link and read more about it. For those of you who just want to buy something sexy or hot, visit the EdenFantasys sex shop. If anyone already is a member at EdenFantasys or becomes a member in future, you can find my public profile here.


Post sponsored by: EdenFantasys, a sex toy store.
* * * * * * * * * * * * * * * * * * * *
Note added:
This post have been written about two weeks ago and was scheduled to post today. Two days ago, on Saturday, I received the following in e-mail from EdenFantasys:
I hope you're enjoying the weekend. I'm reaching out to let you know that EdenFantasys is changing direction in terms of how we are promoting ourselves and increasing exposure for our company, and at this time we will no longer be working with bloggers on such a large scale (in terms of sponsored posts, giveaways, product reviews, etc.).
I apologize for such short notice, but this is something I was only recently notified of.
As always, please let me know if you have any questions. It's been a pleasure working with you – and don't be surprised if EdenFantasys reaches out to you again in the future! 🙂
So unfortunately I have to let all of you know that, until further notice, the EdenFantasys program for bloggers has been discontinued. However, this does not take away that you can check out all the wonderful products that are available on EdenFantasys!
© Rebel's Notes